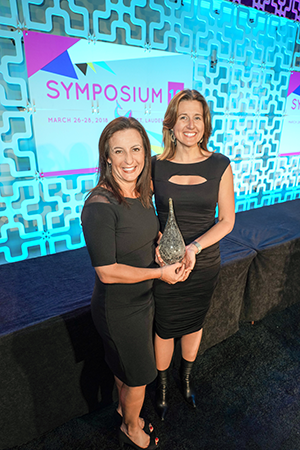 As Chief Learning Officer's LearningElite program enters its eighth year, common threads have emerged among the organizations.
LearningElite winners are serious about learning. Their teams carefully craft programs that align learning strategy with business strategy. Their leaders believe in the value learning and development gives the organization. L&D initiatives are delivered through different modalities, often using technology to enhance participation and deliver anytime, anywhere content. Key performance indicators are built into programs to ensure results are quantifiable. Results are shared with senior leaders to demonstrate the positive impact learning has on the business.
This past March we honored organizations large and small, national and international, at the annual LearningElite Gala during the 2018 CLO Spring Symposium in Fort Lauderdale, Florida. From organizations of less than 500 employees to large multinationals, the LearningElite program celebrates those with a passion for lifelong learning.
The peer-reviewed ranking and benchmarking program recognizes organizations that employ exemplary workforce development strategies that deliver significant business results. It uses best practices in evaluation to rank organizations based on their impact, size and industries served. A comprehensive evaluation of L&D, the LearningElite also recognizes individual companies for their efforts in functional areas, including leadership development, use of technology, executive buy-in, and content development and delivery.
Of the hundreds of companies that applied, 78 met this year's benchmark to qualify as LearningElite. Applications were reviewed by more than 400 volunteer judges — CEOs, CLOs, HR practitioners and other professionals who are as passionate about learning as the organizations they rated. Judges rate organizations in each of the five dimensions of the LearningElite model: learning strategy, leadership commitment, learning execution, learning impact and business performance results.
To determine the winner, the top five organizations participated in a capstone project; each gave a two-hour presentation exploring the concept of perfect fit — how is learning tailored to the organization? For the best of the best, L&D practices and modalities are as unique as the organizations themselves, incorporating everything from AI to neuroscience, metrics and analytics, reskilling, and job aids provided in multiple languages.
This year's Organization of the Year — Accenture — previously won the LearningElite in 2014. They haven't rested in the years since, however, transitioning their workforce with a "Lead into the New" strategy. Accenture's forward-thinking L&D practices engage their learners and encourage innovation. Their proactive policies will ensure the company not only survives but thrives in the age of digital disruption.
The following stories showcase how LearningElite organizations use the idea of perfect fit to suit their needs. Every work culture is different and each requires a unique solution. From testing and deploying new L&D initiatives to sunsetting multiple LMSs into a single system, this year's LearningElite organizations share a common goal: to find a perfect fit between learning initiatives and organizational goals and to maximize the impact of learning investment on the business.
The 2018 LearningElite
Sidley Austin
Blue Cross and Blue Shield of North Carolina
Mindtree Limited
IHG
EY
Enterprise Holdings
New York Life Insurance Co.
United Services Automobile Association
Mountain America Credit Union
CareSource
Memorial Health System
ICICI Lombard General Insurance Company Ltd.
Emory University
NIIT
G4S Secure Solutions (USA) Inc.
ATB Financial
Bankers Life
MTM Inc.
Erie Insurance Group
BKD
Aon
FDIC Corporate University
Hewlett Packard Enterprise
TELUS International
UST Global Inc.
Buckman
AAA / Automobile Club of Southern California
DaVita Inc.
OptumRx (Learning Services division)
Ingalls Shipbuilding
Xilinx Inc.
OptumRx (Quality Control and Monitoring division)
ConServe
Alamo Colleges
PJ Lhuillier Inc.
Mariner Finance
Siemens
FIS
Lincoln Financial Group
Tennessee Valley Authority
Kimberly-Clark
Visa Inc.
Paycor Inc.
CVS Health
Department of Veterans Affairs Acquisition Academy
Qatar Airways
Procore
ManTech International Corp.
AAMCO Transmissions and Total Car Care
Red Roof Inn Inc.
Caterpillar Financial
HP Inc.
Data#3
Sysco
Southwest Airlines
HUB International
LaSalle Network
United Nations Development Programme
T-Mobile US Inc.
AbbVie
American Eagle Financial Credit Union
SWBC
Essilor
Sachse Construction and Development Company
BAYADA Home Health Care
U.S. Postal Service
PVH Corp.
Penske Motor Group
Editor's Choice Awards
Chief Learning Officer recognizes the following organizations for Best Small Company, Best Midsize Company, and the highest scorers in each of the five dimensions considered:
Learning Strategy: Accenture
Leadership Commitment: KPMG
Learning Execution: AT&T
Learning Impact: Janssen: Pharmaceutical Companies for Johnson and Johnson
Business Performance Results: Nationwide
Best Small Company: Sidley Austin
Best Midsize Company: Memorial Health System
Winners Circle
2017 Organization of the Year: Defense Acquisition University
2016 Organization of the Year: Vanguard
2015 Organization of the Year: Qualcomm
Sarah Kimmel is Human Capital Media's vice president of research and advisory services. She can be reached at editor@CLOmedia.com.